LET THE BATTLE BEGIN!
Playgrounds of Tampa is a family entertainment venue combining the classic games of hide-and-seek and tag with a high tech twist.
Our games consist of 1 hour sessions with a referee who runs 5-6 games, on average, with different missions.  Our missions include, but are not limited to, Team Elimination, Capture the Flag, Defender, Freeze Tag and Intel.  Please allow up to 15 minutes for rules briefings and preparation at beginning of match.  Please show up at least 15 minutes early to ensure your saved spot.  Games will end 10 minutes prior to the session ending to return taggers and checkout.    We want everyone to have a good time.
Our taggers are the same high tech equipment as the US military with multi-sensor headbands.  The laser taggers are engineered for a more immersive experience while still being fun and easy to use.  They speak commands, register hits, and allow the player to respawn at multiple stations.
Who can join the war?
Our gammers must be 7 years and older, able to hold our realistic taggers (3lbs) and feel comfortable in a semi dark environment. Both adults and kids will enjoy our more intimate and tactical war zone and extremely accurate taggers.  We only allow up to a total of 12 participants on the field at one time.

LASER TAG PARTIES YOU'LL NEVER FORGET
Unlimited Ammo
5 to 7 minute micro missions
Specific missions for all ages
Same high tech equipment as the US military
Players involved the entire mission
Real-time feedback and scoring
Taggers issued with authentic red-dot scopes
This is a more intimate arena which can handle up to 12 players at one time. Playgrounds of Tampa staff will be roaming throughout the arena at all times to ensure all players will have an enjoyable and safe experience while playing Laser Tag.  Other groups or parties may be in the Laser Tag arena during your party.
All participants must have an adult sign a waiver for them to play.
Whether you are celebrating a birthday or just want to get a few friends together, we offer the following packages: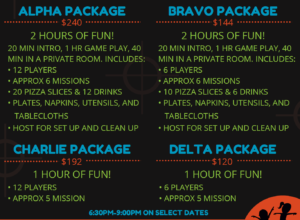 Reserve your time today!